Pottery Barn Drapery Installation
Now that the draperies are purchased, the dreaded task of installation begins. Draperies are the dressings of your home. They make a stark, cold room into a warm, finished work of art. In order to make your drapes worth the investment, take extra care during the drapery installation process. Important tips follow to help make this often-costly investment a matter of satisfaction and not regret.

Draperies are usually hung on a track, or traverse rod, that can be opened and closed with a rope and pulley system, or on a rod, allowing them to be manually pulled open and shut. Draperies do not always cover windows and doors; some styles simply frame the opening for aesthetic value.


Davilyns Installers Can Assist You!
Ready made or custom-made draperies installed by a professional with over 40 years of drape, blind and drapery installation experience.
Measurements for the correct installation of your ready made or custom drapes is also offered at reasonable prices. Contact us at the number above or by the contact form on the top of this page to schedule a measure.
When installing draperies, extra care is required and our years of experience will leave you fully satisfied.

Don't let things get ahead of you. A basic understanding of house construction helps when drilling into walls. If the wall is made of brick or stone, a suitable masonry drill bit and anchor must be used to fasten the hardware. Many houses are built with stud walls, usually of 2" x 4" wooden members. The "two by fours," as they are called, are actually 1 ½ inch wide, spaced every 16 inches or 2 feet, and stand vertically, creating the walls of the house. Windows and doors are completely encased with this wood, which is the support for hanging the draperies. This all can be complicated for the average homeowner and too much to undertake. Let us assist you to make your ready made or custom drapes, blinds or drapery purchase be all it should be.



Concerned About The Blind and Roman Shade Recall?
Davilyns can install new, safer blinds or retrofit your existing blinds. Call today to discuss your options.
All Roman-style shades and roll-up blinds are being recalled after reports of babies and toddlers dying from strangulation, the federal agency in charge of product safety announced Tuesday -- one of the five largest recalls in the agency's 35-year history.
The U.S. Consumer Product Safety Commission said the recall affects more than 50 million Roman shades and roll-up blinds, which have cords that can get caught around children's necks.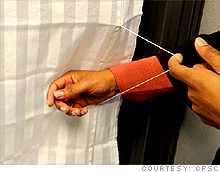 25 million Roman shades were recalled because an infant's head can get caught between the cord and the fabric.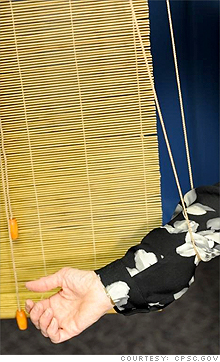 27 million roll-up blinds were recalled because a baby's head can get caught in the cord.
CPSC said 5 children have died of strangulation and 16 others have been nearly strangled since 2006 because of the Roman shades, which pose a problem because of space between the inner cord and the shade fabric. The recall affects 25 million Roman shades.
Roll-up blinds have a large loop at the end of the cord that can strangle young children, the CPSC said, adding that 3 children have died from the roll-up blinds' hazard since 2000. The recall affects 27 million roll-up blinds.
The commission said about 5 million Roman shades and 3 million roll-up blinds are sold each year.
CPSC said it is working with the Window Covering Safety Council, an industry trade group, to provide repair kits for Roman shades and roll-up blinds sold at retailers including Wal-Mart (WMT, Fortune 500), JCPenney (JCP, Fortune 500), Pottery Barn, West Elm, Ace Hardware, Big Lots (BIG, Fortune 500), Ross (ROST, Fortune 500), and The Land of Nod.
The repair will eliminate the cord from the Roman shades and instead provide rings for consumers to install. Shade owners will have to manually lift the rings to raise the shade.
The kit will provide a device for roll-up blinds that will force the cord to separate into 2 pieces if a force equal to a baby's head is applied. The CPSC said the cord cannot be eliminated from the design of the roll-up treatment because it would strip its functionality.
In 2000, CPSC also worked with the Window Covering Safety Council to recall 85 million (see correction below) window blinds. The recall mostly affected Venetian and vertical blinds.
Since that industry-wide recall, however, CPSC said Roman shades and roll-up blinds have been installed in more homes because of their improved affordability and aesthetic.
While the 2000 recall resulted in improved standards for Venetian and vertical blinds, CPSC said the industry did not move fast enough to improve standards for Roman shades and roll-up blinds.
"The current standards are not adequate to protect the safety of children," said Scott Wolfson, spokesman for the CPSC. "The recall will push the industry in the right direction to see what other stronger steps can be taken."
Wolfson also said the agency is considering setting federal mandatory standards.
"Recall after recall is not the solution to protecting children. A good standard can protect children. A good standard can protect lives," he said.
For a free repair kit, consumers can contact the Window Covering Safety Council at www.windowcoverings.org or 800-506-4636.
Here's how the recall affects blinds bought at major retailers:
JCPenney: The department store is recalling 2.2 million Roman shades and 340 roll-up blinds that were sold in stores, in catalogs and on the retailer's Web site since at least 1999 through October 2009 for between $10 and $500.
CPSC said JCPenney is aware of 2 separate instances in which a 2-year-old girl became entangled in the cord at the back of a Roman shade. Neither incident left permanent injuries.
Wal-Mart: The discount retailer is working with the CPSC to recall 500,000 Roman shades and 600,000 roll-up blinds that were sold between January 1999 and September 2009 for between $6 and $30.
No incidents or injuries have been reported resulting from blinds sold at Wal-Mart stores.
Consumers with bamboo roll-up blinds in particular should take their blinds to Wal-Mart stores for a full refund.
Pottery Barn: The home goods retailer is recalling 305,000 Roman shades, after recalling 85,000 of them in August. In June, a 3-year old boy was caught by the inner cord of a Pottery Barn Roman shade. He has since recovered from a thin laceration around his neck, CPSC said.
The Roman shades were sold at all Pottery Barn stores and their Web sites from January 1998 through October 2009 for between $25 and $180.
Pottery Barn is also recalling 45,000 roller shades which can also pose the risk of strangulation if the shade's looped cord is not attached to the wall with the tension device provided.
The roller shades were sold through the Pottery Barn catalog and online from January 2003 through October 2009 for between $100 and $120.
Consumers can contact Pottery Barn at 800-492-1949 or its Web site for a free repair kit.